UQ-Ochsner students have a unique opportunity to take advantage of the rich research environment at both The University of Queensland (UQ) and the Ochsner Clinical School (OCS) in New Orleans. 
The Ochsner Student Research Hub is designed to allow Ochsner students in Phase 1 to connect with OCS research supervisors to help identify an area of interest or a project that can be ready to start when you arrive in New Orleans for Phase 2. 
Please remember your priorities: While you are encouraged to pursue research during your medical program, the priorities in MD Years 1 and 2 must be about preparation for the USMLE Step One and maintaining successful progression in the MD Program.
This Hub is meant to give you a head start on getting involved in one of many research opportunities available during MD Years 3 and 4 at the OCS in New Orleans. 
In order for you to make the most efficient and informed choices regarding your research options, please read FAQs below specifically for UQ-Ochsner students interested in research. 
Find a project 
See what projects are available at Ochsner Clinical School.
For Phase 1 Ochsner Students
UQ Ochsner students in Brisbane for Phase 1 of the MD are encouraged to explore research opportunities, while also being aware of your USMLE and MD priorities.  Nevertheless, now is a good time to identify a research interest and find a supervisor and project at Ochsner Health in New Orleans. 
The 'Find a Project' link here in the Ochsner Hub page lists several Ochsner researchers and their projects.  Feel free to make contact with these potential supervisors, and perhaps establish a relationship around mutual research interests. You might even organise a project that you can begin in Phase 2 when you get to the Ochsner Clinical School in New Orleans.  
Alternatively, the 'Find a Project' link on the Portal homepage has many researchers with student projects across UQ.  Projects that are flexible and not time critical would be suitable to be involved in and can be done in your spare time.
Please remember, if you wish to undertake an extra-curricular/voluntary research project while here is Brisbane, you must follow the steps detailed on the Portal under "For Students".
For Phase 2 Ochsner Students
UQ Ochsner students in New Orleans for Phase 2 of the MD have several opportunities to do research at the Ochsner Clinical School.  If you have not already organised a project with a researcher, you might look through the "Find a Project" link on the Ochsner Hub or make contact through meeting clinicians on your clinical placements.
Regardless of how you find a research project, you must follow the steps on the OMSA Guide for Phase 2 Research.
Ochsner Clinical School research resources
Case Studies

Formulating a Research Question (PICO method)
UQ-Ochsner Clinician Scientist Track
The Clinician Scientist Track (CST) represents a program of study that allows eligible students to incorporate a Higher Degree by Research (HDR), either a PhD or an *MPhil integrated with the MD degree. The MD-PhD and the MD-MPhil are offered as an intercalated model; meaning you interrupt your MD degree to do full time PhD or MPhil research, then return to finish your MD and graduate with an MD-PhD or MD-MPhil. 
*The MPhil Degree is equivalent to the Research Master's Degree (MSc).
Intercalated MD-PhD – requires three years out of the MD
Intercalated MD-MPhil – requires one year out of the MD
Please refer to the specific timelines for Ochsner students.
Medical students must be approved to apply for the MPhil or PhD.  Please read carefully the eligibility criteria for the MD-PhD and MD-MPhil programs.
If you feel you are eligible, or need more information, contact the Director of MD Research Prof Di Eley d.eley@uq.edu.au
UQ-Ochsner MD-PhD Scholarship
If you are interested in combining a PhD with a medical degree, the UQ-Ochsner MD-PhD Scholarship is specifically for eligible enrolled UQ-Ochsner MD students. Please see details of the UQ-Ochsner MD-PhD Scholarship on the Ochsner MD Program website.

Ochsner research highlights
Medical Student, Research Fellow and Mentor of the Year Awardees
19th Annual Ochsner Health Research Day
May 24 & 26, 2022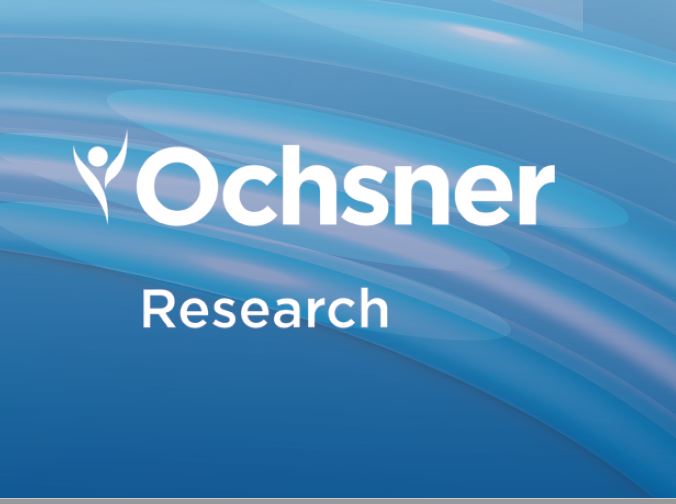 Student research highlights
Ochsner 2022 Post Doctoral Research Fellows