2022 UQ Medical Student Research Conference
13 October 2022

5:15pm

–

8:00pm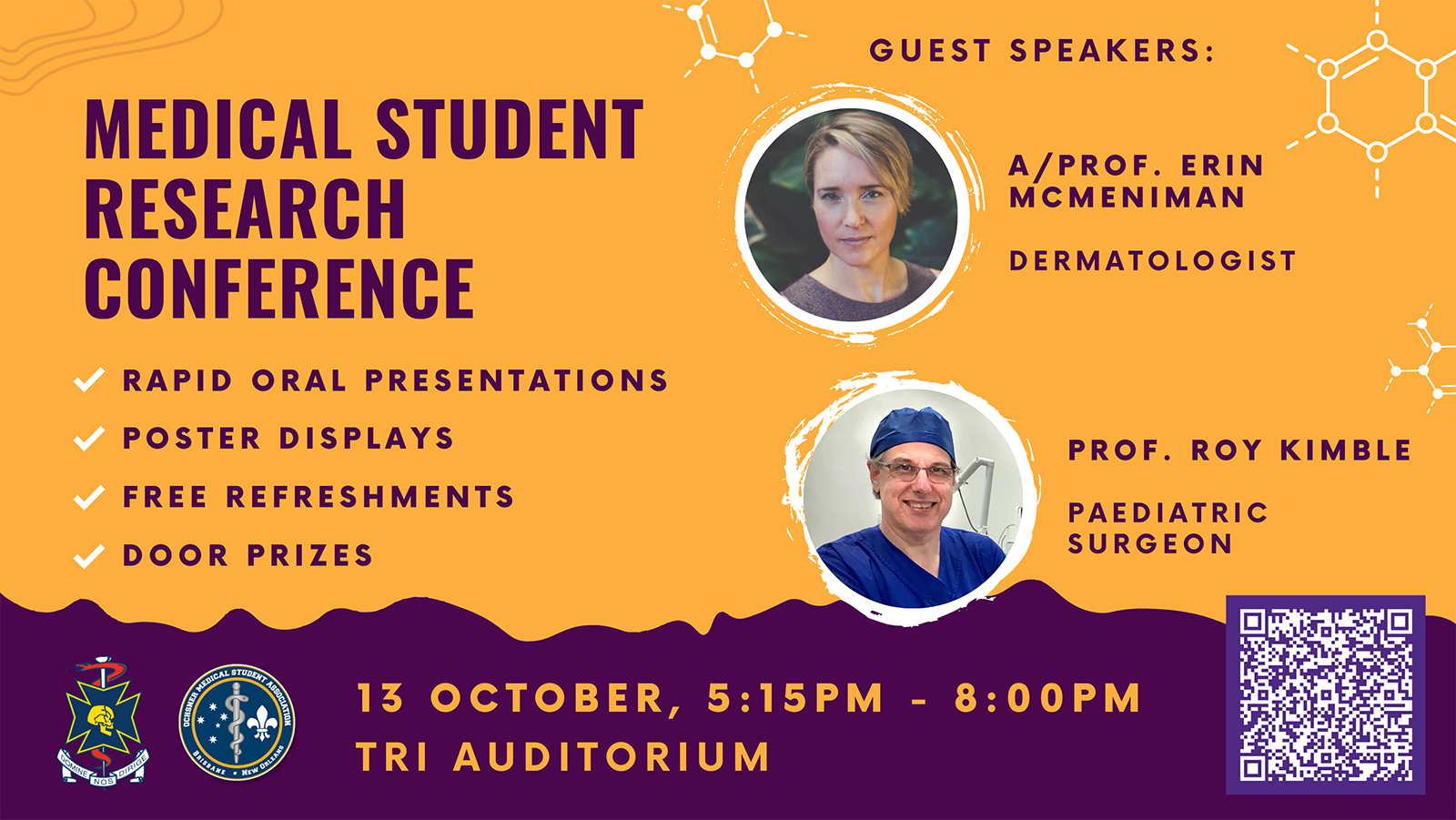 Presented by the UQ Medical Society, the Ochsner Medical Student Association, and the Academy for Medical Education
Post-Conference report
Thank you to everyone who attended and/or presented at the 2022 Medical Student Research Conference and Showcase on 13 October 5:15 – 8pm at the TRI Auditorium.
This year's call for abstracts attracted 57 submissions from which 10 oral presentations, and 37 posters were accepted. The oral presentations this year took the form of a modified 3-Minute Thesis (3-MT). The 3M+1Q comprised a 3 minute presentation with one static slide plus 1 question to be answered within 1 minute.
Also new this year, is the Medical Deans of Australia and New Zealand (MDANZ) are holding their inaugural 3M+1Q competition in November. The winner of our UQ 3M+1Q presentations will go through to the national MDANZ 3M+1Q final and a chance to be crowed champion amongst all 23 medical schools in Australia and New Zealand.
There were just under 100 students attending the evening which began with poster viewing and refreshments followed by the oral program in the TRI auditorium. Our keynote speakers, Associate Professor Erin McMeniman and Professor Roy Kimble gave outstanding and inspiring talks alongside the student presentations. Then it was back to more poster viewing and the presentation of prizes by Professor Andrew Teodorczuk.
3M+1Q Oral Presentation Winners
Winner: Joshua Monteith – MD2 (UQ representative at the MDANZ 3M+1Q final)
Runner-up: Fraser Labrom - MD4
Runner-up: Patrick Sharkey – MD2
People's Choice Oral Presentation
Best Poster Winners (Top 3 scores)
Best Poster Runners-up (Next 3 scores)
People's Choice Poster Display
Honourable Mention Posters (alphabetical order)
A big THANK YOU to the 2022 Conference Team: UQMS Research Rep Dr Cody Frear (MD4, PhD), and the OMSA Research Reps Rachel Ng (MD2) and Priya Puri (MD4). And thanks to Emily Lawrence, Academy for Medical Education (AME) administration assistant.
And a huge THANK YOU to our judges for their time and expertise in reviewing and scoring 10 oral presentations and 37 posters!
Oral presentation judges
Dr Joan Li (AME)
Dr Amy Johnston (School of Nursing)
Professor Andy Teodorczuk (AME)
Poster judges
Dr Robert Ellis (Translational Research Institute and Princess Alexandra Hospital)
Dr Rob Eley (Princess Alexandra Hospital Southside Clinical Unit)
Dr Courtney Parke (Ochsner Clinical School)
Associate Professor Paul Dawson (Mater Research Institute)
Dr Jordan Fox (Rural Clinical School)
Dr Isaac Akefe (AME)
Special THANKS goes to the Faculty of Medicine Research and the Medical School for their generous sponsoring of the prizes and catering.
Oral presentations list
Conor O'Brien: A narrative review of wrong-site Regional Anaesthesia in a post Stop-Before-You-Block world, and the factors that undermine efficacy
Tabitha Baca: Experiences of Healthcare Access in the Aromantic Community
Patrick Sharkey: Immune tolerance therapies for autoimmune diseases: shifting the goalpost to cure
Shaun Foo: Adolescent exposure to online advertisements and promotions for tobacco products: a cross-sectional analysis of the Global Youth Tobacco Survey
Gi Young Seo: Utility of head CT for residential aged care facility patients presenting to the emergency department following a fall with no focal neurological symptoms: a preliminary literature review
Fraser Labrom: Using Segmental Vertebral Deformity Measures to Stratify Risk of Clinical Progression in Adolescent Idiopathic Scoliosis
Rajat Patel: Cognitive impairment and health-related quality of life amongst olderAustralians: Evidence from two waves of a nationally representative longitudinal study
Jacob Karamanian: Rates of suicide in young men in Australia are at an all-time high and how should we talk about it?: Historical research comparing media articles on suicide between the 1950s and 2010s
Zhen Lin: Low-dose naltrexone in the treatment of fibromyalgia
Josh Monteith: The forgotten common antigen: A novel target for cloaking antibodies to P. aeruginosa in chronic infection
Check out the 2022 Conference photo gallery
Conference Posters List
Sara Ahmed: Towards Virtual Nodule Care (VNC) for the management of indeterminate pulmonary nodules: a review
Samaar Alva: Clean Catheters for Nasty NOFs
Claire Blayney: Digital Ergonomics in the Emergency Department
Benjamin Cai: Linking Gut Dysbiosis and Peripheral Arthritis in Spondyloarthropathy through Bacteria Translocation
Chen Fang: Diabetic cardiomyopathy disease modelling utilizing human pluripotent stem cell-derived cardiomyocytes and physiological characterization
Shaun Foo: A systematic review of second-hand smoking mass-media campaigns
Brian Gutierrez: Benefits of Breaks Every 30 Minutes on Physical Well-Being in Sedentary Professions
Emily Herbertson: Oral Feeding Management in Infants who are Dependent on Respiratory Support via High Flow Nasal Cannula (HFNC)
Kyleigh Kriener: A touchy subject? Improving the haptic fidelity of medical skills trainers
Kasundri Kulasinghe: The risk of bloodstream infection in adults with different intravascular devices: A systematic review
Raushan Lala: Recovery of platelet aggregation function following removal from the traumatised vascular milieu
Stephanie Leech: Characterisation of putative genetic mutations that drive inborn errors of immunity
Aaron Lerch: Ultra-Violet Light to Reduce Contamination During 'Doffing' of Personal Protection Equipment
Connie Leung: The search for novel obesity genes: Analysis of a genetic region affecting body weight
Karen Misquitta: Factors associated with entry to residential care in frail older adults
Michael Mullen: Personality Traits of American Medical Students Undertaking International Medical Education
My Huyen Nghiem: Development of a 3D printing model for surgical training of ureteroneocystostomy procedure
Dhaval Patel: Exploring Coping Self-Efficacy and Calling in Medical Students Studying Medicine Across Two Continents
Jacob Portnoff: Association of SARS-CoV-2 Infection with Neurological Symptoms and Neuroimaging Manifestations in the Pediatric Population: A Systematic Review
Kiana Ronagh: Infection rates associated with ultrasound guided peripheral vascular access in the Emergency Department
Gi Young Seo: Brain glycogen content is increased in the acute and interictal chronic stages of the mouse pilocarpine model of epilepsy
Rylan Steinkey: The Evaluation of Artificial Intelligence as a Diagnostic Tool for Disordered Sleep Breathing in Paediatric Populations
Joanna Tsirgiotis: Reducing the rays: Acute management plans to reduce unnecessary imaging in the emergency department
Luke Waldie: Ticked off: Metagenomic Profiling of Tick RNA for Pathogenic Bacteria 16S Sequences from Harvey et al. (2019)
Jordin Wilson: Critical Variables Driving Patient Outcomes in Early-Stage Hepatocellular Carcinoma with Elevated Risk Factors
Jordin Wilson: Racially Disparate Disease Progression Rates in Early-Stage Hepatocellular Carcinoma Patients
Alvin Yang: Development of novel self-signalling nanoprobes for detection of SARS-CoV2
Cheng Zhang: An Investigation of Efficacy of Extracorporeal Membrane Oxygenation for Refractory Severe Acute Respiratory Distress Syndrome in a Sepsis Ovine Model
---
Check out the last year's conference with a recording of all presentations, display of posters, and list of winners from last year's conference.