55th ASMR Next Generation Healthcare Conference: Merging Biology and Technology
13 November 2016 2:00pm
–
15 November 2016 12:30pm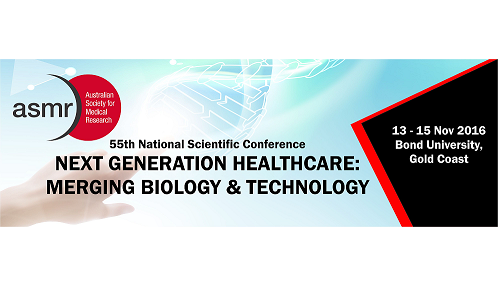 Registrations are now open – take advantage of our discount early-bird rates today!
ASMR Members – registration only $400 
ASMR Student Members – registration only$230
The Australian Society for Medical Research (ASMR) encourages you to register for the upcoming 2016 ASMR National Scientific Conference (NSC), which will be held on the Gold Coast from 13-15th November (see details below).
The NSC is an extremely inclusive conference accepting abstracts from all fields of health and medical research.
We have specifically designed a program that we believe will particularly benefit early-career researchers (students and post-docs) looking to establish their careers. Some of the new initiatives include:
Broad scope – Abstracts will accepted from all fields of health and medical research, from basic science to clinical research to public health and beyond
Networking – expand your collaborative networks by engaging with research leaders from diverse disciplines in an intimate setting
Reduced registration rates – we have done everything possible to make this conference affordable for ECRs – early-bird student member registration is only $230 (student non-member registration only $300), early-bird member registration is only $400 (non-member registration only $500)
Awards and recognition – in addition to the prestigious Campion-Ma-Playoust prize awarded for the best presentation by an ASMR member, we have added an award category that is open to all ECRs (both members and non-members), in which the best presentation (oral or poster) will receive a certificate of formal recognition and an opportunity to deliver an invited oral presentation at NSC 2017
Rapid-Fire Poster Session – all poster presenters will have the opportunity to give a short oral snapshot of their research to the entire audience
Day registrations – for ECRs who cannot commit to the full conference, we are also offering day registrations at a reduced rate 
The 2016 conference, entitled "Next-Generation Healthcare: Merging Biology and Technology", will serve as a unique transdisciplinary forum for the exchange of cutting-edge ideas and techniques to address the major health-related issues of the future. The conference will address how recent technological advances can be harnessed to accelerate improvements in healthcare, including in disease detection and treatment optimisation, monitoring of disease progression and therapeutic response, drug delivery, and tissue regeneration and replacement, amongst others. We hope to bring together researchers from a broad range of fields, including 'omics and systems biology, personalised and precision medicine, genome editing, nanotechnology, real-time monitoring, tissue engineering, imaging and robotics.
In addition to the specific benefits described above, our invited speakers provide a breadth of quality research across a range of disciplines. One particular highlight will be the international Firkin Oration by Prof. Alim-Louis Benabid, winner of the 2014 Lasker Prize and 2015 Breakthrough Prize for his work in pioneering deep-brain stimulation for Parkinson's disease. A world leader in transdisciplinary and translational research, Prof. Benabid currently spearheads Clinatec in Grenoble, France – a unique collaborative facility bringing together doctors, biologists, technologists, patients and industrialists to overcome therapeutic deadlocks.
Please note that early-bird registration closes on Thursday 15th September; abstract submission closes Friday 30th September. We encourage you to register as soon as possible as only limited places are available. Please visit http://www.asmr-nsc.org.au/ for more details.