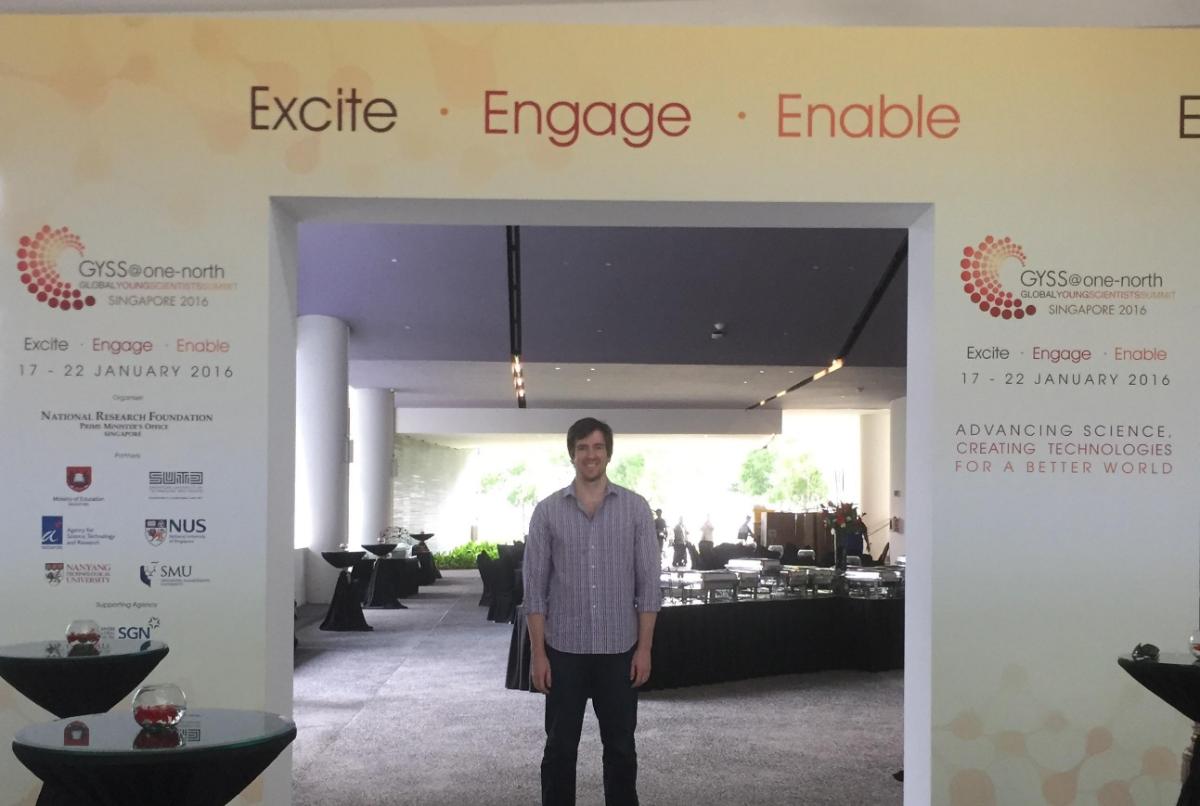 Dr Matthew Roberts 2011 MBBS-PhD graduate and Surgical Resident, was the only student chosen as a delegate from UQ to attend the 2016 Global Young Scientist Summit (GYSS)held annually in Singapore. 
Dr Roberts provides a brief account of his experiences and highlights at the Summit:
The GYSS aims to excite and inspire bright young researchers and connect them with like-minded peers as well as eminent scientific leaders through close and personal interaction sessions. The result is an international gathering of Nobel laureates and young scientists from all corners of the globe. I was fortunate to be selected by the Australian Research Council (ARC) to attend this event as an Australian representative. My first collaborative experience began upon meeting my roommate, before the conference had begun. He was a PhD student in cancer biology from University of Melbourne, who educated me on the developing cancer genomic modelling occurring in Drosophila flies, definitely a concept I had not heard of.
Throughout the meeting I met a diverse range of scientists, ranging from cell biologists to physicists to chemists to climate change scientists. People were from a wide range of countries, with my meeting an engineer from Israel on my first bus trip, as well as scientists from Iran to the UK to the USA to Thailand and China throughout the meeting. Despite vast geographic differences, I found common ground for interesting discussion among the fellow scientists, including a French PhD student who was using the same technique as I (metabolomics) in a different biological field.
Physicists, chemists and others whom I met felt the caliber of basic science speakers was outstanding. While I as a budding clinician scientist was in the minority, I enjoyed the talk by J. Robin Warren on discovering Helicobacter pylori to change the understanding and management upper gastrointestinal ulcer disease , which was stripped down to reveal the challenges faced, including the importance of scientific evidence to prove a hypothesis in the face of doubt. This was a theme echoed by most speakers, including Prof Ada Yonath who opened my eyes to the complexity of the ribosome and their importance in medicine, particularly antibiotics. Sir Richard Roberts was the standout speaker for me, who discussed methylation as another marker for disease inheritance and penetrance, as well as asking some honest questions of protesters to genetically modified foods and potential detriment to developing countries in dire need of these, labelling their actions "A crime against humanity".
Overall, the meeting was a fantastic experience for budding or established scientists of any discipline and I would highly recommend UQ candidates to apply and embrace the opportunity as I did. Many thanks to the Faculty of Medical and Biomedical Sciences as well as the Centre for Advanced Imaging for supporting my attendance.