Medical student, charity founder and elite athlete Jeremy Hunt has been named Queensland's 2024 Rhodes Scholar.
The University of Queensland alum and current student received the honour from Queensland Governor, The Honourable Dr Jeanette Young, at a ceremony at Government House in Brisbane yesterday.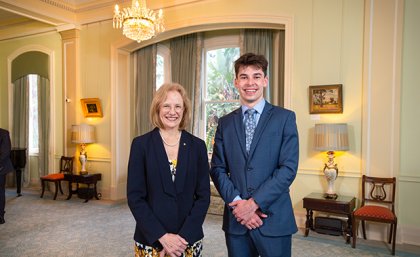 Mr Hunt completed a Bachelor of Science (Computer Science/Biomedical Science) in 2019 and is currently in his final year of a Doctor of Medicine at UQ.
He will use his Rhodes Scholarship to study public policy and applied digital health at the University of Oxford.
Mr Hunt has a strong interest in digital health and how electronic medical records can be used to reduce medication errors and improve patient care, while still carefully maintaining patient data privacy.
"In my view, poor health limits the innate potential that exists within every person," Mr Hunt said.
"The opportunity that digital health policy presents to unlock that potential, to affect individual lives deeply and positively, is what makes me so impassioned to drive change.
"Just as there is the chance to harness technology to improve patient outcomes in Australia, there is an opportunity to reduce worldwide health disparity, which truly excites me.
"For instance, AI-enabled radiology platforms that improve diagnostic accuracy can be applied to much greater effect in regions with shortages of radiologists, such as India, compared to Australia."
Mr Hunt is the founder and CEO of the VacSeen Project, a registered charity which provides free pop-up vaccination clinics and health services for people experiencing homelessness and other at-risk groups.
In recognition of the impact of The VacSeen Project's work, he was named the 2022 Brisbane Young Citizen of the Year and was also a finalist in 2023 Queensland Young Australian of the Year awards.
Mr Hunt is an elite level trail and mountain runner and member of the UQ Elite Athlete Program.
He competed in the World Athletics World Mountain and Trail Running Championships in Austria this year, where he placed 60th and topped the Australian entrants.
During his UQ studies he has received many awards, including the 2023 Frazer Family Scholarship for Medicine and the Eric W Peet Memorial Prize for Medical Ethics.
More than 500 Australian Rhodes Scholars have been selected since the scheme began.
Media: UQ Communications, communications@uq.edu.au, +61 429 056139.